BROSURI
CONTACT
Blvd Pipera, no 1/II, Voluntari, Ilfov, Romania
+44 (0) 74 70 42 04 02
office@cryptodata.ro
ABOUT CryptoDATA
Who is CryptoDATA ?
Founded in 2013, CryptoDATA represents a company providing IT solutions in cybersecurity, developed using blockchain technology and A.I systems. Our promise is to offer users worldwide security based on decentralization. Our aim is that every person could communicate freely and securely.
Where is CryptoDATA located ?
CryptoDATA has started its activity in Romania by developing the biggest encrypted information processing data-center in Europe. In 2015, the company's Headquarter relocated to Bucharest, the capital of Romania, and opened a new data center for processing. In 2018, by announcing the launch of the first encrypted smartphone working on blockchain – IMPulse K1 and, also, by launching the innovative VOBP technology, the company has expanded its activity in Stuttgart, Germany. At the moment, the company has offices and work points in Singapore and UK, and operates, also, through partners located in the USA, Canada, Russia, South Africa, Colombia, Brazil, Australia, South Korea. Our company's mission is to create a decentralized community and to provide access to our innovative technology to all people from every corner of the world.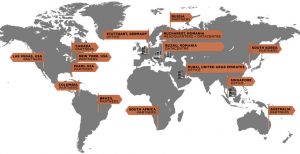 Domains of activity